Brokerage / S.O.R (Sale or Return) Fee £1,440 (Inclusive of VAT)
Company Registration Number - 11295180
Many car owners, especially enthusiasts with high-end Electric Vehicles who tend to care for their cars extremely well, understandably want the best possible price for their cherished vehicle when they wish to move onto something new. Of course, we are happy to purchase good quality used cars for cash, or look to part exchange against a stock vehicle.
However, we are seeing more and more of our customers using our specialist brokerage service where we sell your car for you, ensuring you get the best possible price (and we know the market intimately so can advise on the price we expect to receive). The process is simple, safe, and most of all effective - the person who wants to buy your car will most likely be looking to purchase from a trusted dealer, one who can provide delivery, part exchange and finance, so we can offer all that on your behalf, paying you directly to your bank as soon as the new buyer has collected the car.
Your car can either stay with you through the process, or come down to our safe, fully-insured, storage facility where we can offer viewing, both virtually, and physically (where permitted) to prospective buyers. We guarantee your car will never be in anyone else's hands until it is fully paid for. We will keep the battery charged to your preferred level, and can carry our any maintenance or refurbishment needed by the car before sale. If your car doesn't sell, or you change your mind, you can have it back and we charge you nothing (unless you have agreed to have refurbishment or maintenance carried out).
The success rates for this service are phenomenal - we sell 95% of the cars we have on sale or return, most for exactly the asking price. Our fee for this service is a very reasonable £1440 Inclusive of VAT, or priceless as one of our recent customers said -
"Simon was a pleasure to deal with, he sold my car in less than 48 hours, for exactly the asking price. Not only that, he came and collected my Model 3 and delivered it to the new owner on a Sunday! Recommended." Tom Stacey, Tesla Model 3 SR+
Please see my reviews on my testimonials page and Autotrader 100+ 5 Star reviews.
Many thanks,
Simon Jones
Tesla, Electric, Hybrid and Premium Vehicle Specialist since 2016.
Alloy wheel refurbishment
For any car you buy, a wheel refinishing service is available. Bring your vehicle to us for a professional wheel refurbishment. For cars we are selling this is usually carried out pre-sale as part of the preparation process.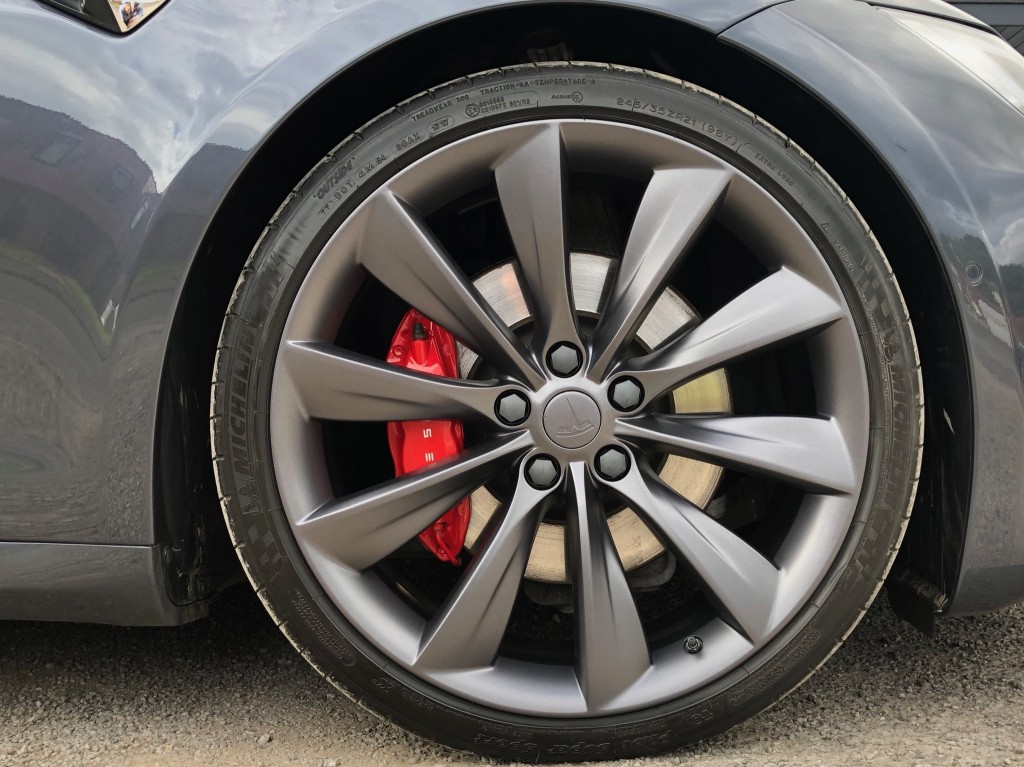 Window tinting is a popular way to enhance the look of your car. It increase security and provides shade to children or pets in the back.

Bodywork repairs and Dents
Our experienced bodyshop / smart repair technicians can efficiently correct minor blemishes and perform smart repairs.
Not everything needs to be painted by a bodyshop. If the paint is not cracked in any way this can be repaired by PDR (Paintless Dent Removal) a highly skilled dent technician will skillfully massage the dent out. Not only is the paint colour still perfect you have also saved yourself an expensive repair on your vehicle!
White Model X shows a very nasty dent with NO filler used. Repaired and returned to owner in two days!
Blue Model 3 Long Range was in and out within 7 hours! Then returned to his very happy owner!
I have plenty more pictures of Tesla / PHEV repairs upon request
We work closely with UTWS in New Milton who complete the following for us
Chrome Delete
A great way to enhance the look of your vehicle. All chrome parts of the vehicle are wrapped in black matt or gloss finish. It can also be available in any colour of your choice.
Ceramic coating
Polished to perfection and sealed with a ceramic coating which bonds at a nano level.
Calliper re-painting
Calipers can be resprayed in any colour you desire. They will have the Tesla text on them or any other text you desire.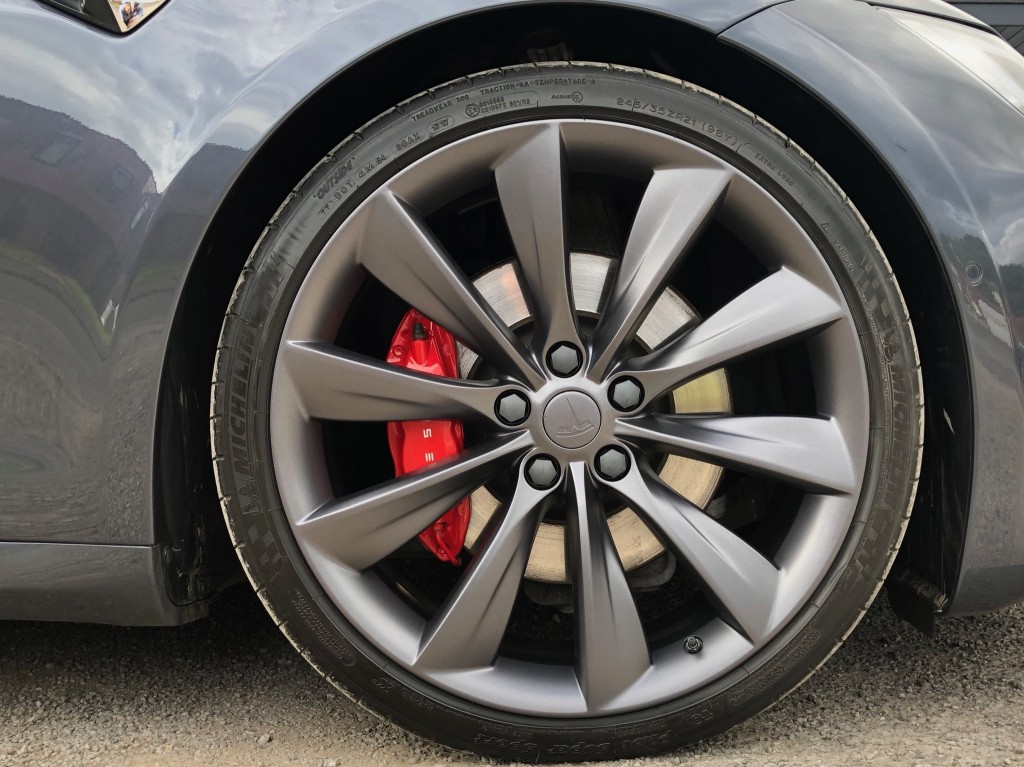 Wrapping can be done with or without the doors shuts. A large variety of colours and finishes are available
Power tailgate for Model S or 3
The power tailgate is a great addition to the specifiactions of your Model 3. It comes with a foot sensor, screen and app functionality and the height of the tailgate can be adjusted.